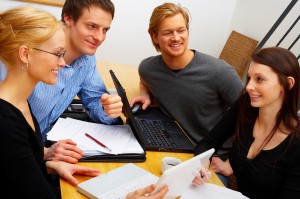 Small business owners frequently turn to outsourcing instead of in sourcing for their online small business marketing.  However, it has been my experience that in sourcing is a great option.
Have you considered what your staff or sub-contractors are capable of doing in terms of marketing your small business online?  
When you allow your staff or sub-contractors to contribute to online marketing of your business you are achieving a number of things:
building their knowledge and skill
displaying their expertise
cultivating their creativity
developing their self-confidence
increasing their engagement with your small business
developing a sense of ownership.
I have been excited by the quality of the contribution made to the online marketing of our small business by our staff and sub-contractors.  I think that "in sourcing" is an option that needs exploring before outsourcing but it requires an open mind and a readiness to experiment.  For example, I encouraged one of our staff to write an article from their Gen Y perspective – something I could not have done.
Unlike people to whom you outsource, your staff know your products and services, understand your small business environment and have first-hand knowledge of your customers' needs.
You can engage your staff or sub-contractors in online marketing for your small business by encouraging them to:
build their profile on LinkedIn and connect with your small business profile
write articles and/or blog posts
comment on articles/blog posts on your site or other relevant sites
produce podcasts about your products or services
record a video interview for uploading to YouTube.
We often overlook the capacity of our staff and it is important to consider in sourcing before engaging in outsourcing.