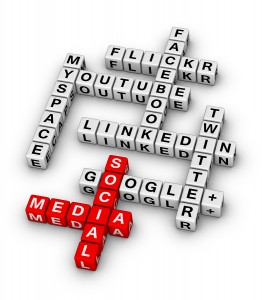 Here are 10 top  tips for building your LinkedIn presence together with tactics and strategies for marketing your small business.  LinkedIn is growing in status and size, so a presence on this site is becoming increasingly important for small business owners.
#1. Make the most of your LinkedIn Profile
Your profile is the core of your presence on LinkedIn – it is what people will visit to connect with you or to view what you have to offer.  LinkedIn understandably provides a comprehensive profile area – covering aspects such as current and past positions, education, specializations, experience and websites.  Make good use of the summary area which allows you to personalize the information by adding applications ("add sections") that enrich your profile presentation.  The additional information area is where you add your websites, interest, groups/associations and awards.
The website descriptors are "my website", "my blog" , etc.  – choose "other" instead and add a keyword rich title for your website(s).  Here are some other suggestions for your profile:
hyperlink wherever possible using anchor text
use keywords in description areas such as summary, specialties and experience
add an image for your profile (critical for this professional network)
create a personalized URL for your LinkedIn public profile (option provided), e.g. http://au.linkedin.com/in/ronpassfield
consciously determine your public profile settings to ensure you display the aspects you want to be visible to the public.
#2. Create your small business profile
LinkedIn, like Facebook, provides the opportunity to create a Company Page.  You can build your small business profile on this page and add your blog feed and other content.  As discussed in a previous post, a key aspect of your small business page should be your Company Status Updates.  This operates like Twitter but enables you to include a website image and description.
#3. Build your network
A key strategy for LinkedIn marketing is building your network.  Your connections are a reflection of who you are and your small business brand.  You can connect with customers who know you, business associates, employees/contractors, professional colleagues, potential joint venture partners and contacts from other social networks such as Squidoo, Facebook and Twitter.  You can really get to know your "friends" through their work experience, background and current business pursuits. 
You can grow your network by direct invitation to individuals, active participation in relevant LinkedIn groups or through people finding you via the LinkedIn search option (reinforces the importance of your keywords!).  LinkedIn, like Facebook, suggests connections based on your key interests, business associations and existing connections.  Your role is to consciously develop and shape your network.
#4. Create a group and participate
Another key LinkedIn marketing strategy, once you have developed your LinkedIn network, is to create a group.   You can build a group around your brand, particular product/services or professional affiliation.  However, you need to be active in your group to stimulate participation by others.  This could involve starting discussions, sharing news, creating sub-groups and posting relevant valuable information and resources.  When people join your group, this will be visible to their own network via the news feed.
#5. Use Slideshare to upload content such as presentations and videos
SlideShare is the world's largest community for sharing presentations. You can:
share presentations & documents with your LinkedIn network
upload portfolios, resume, conference talks, PDFs, marketing/sales presentations and display them on your LinkedIn profile
use a range of formats such as ppt, pps, pptx, odp, pdf, doc, docx, odt, Keynote, iWork pages
embed YouTube videos in presentations or add audio to make a webinar
upload your videos.
If you have a SlideShare.net account, you can import your existing presentations into LinkedIn.  If you don't have one, you can signup from LinkedIn to share your presentations worldwide and get more views/traffic.  You can add the SlideShare presentations to either your profile or your home page.  Your SlideShare uploads show up on the LinkedIn pages of your connections (if they have added the SlideShare application).
You can use SlideShare on both Linkedin and Facebook.  You can synchronize these with SlideShare so you have a three-way leverage.  If you upload anything to any one of the networks — SlideShare, Facebook or LinkedIn – it shows up instantly on all three.
#6. Promote your LinkedIn profile
You can promote your LinkedIn profile on your website, blog or Squidoo lenses by adding the LinkedIn button or text link.  Alternatively, you can use one of the many social media icon sets to encourage readers to connect to you and your small business on LinkedIn.
#7. Use LinkedIn applications
LinkedIn has a range of applications that you can use to brighten up your profile.  These include Portfolio Display, Blog Link (sync with your blog posts from Blogger, etc), WordPress (sync your WordPress posts), Reading List by Amazon (share the books you are reading), Company Buzz (Twitter activity about your company), Polls (create a poll for market research) and Tweets (display your tweets and view and comment on your connections' tweets).
#8. Provide and seek recommendations
Recommendations are central to the purpose of LinkedIn as they contribute to your credibility and can reinforce your brand in the eyes of potential consumers/customers.  They strengthen your personal profile and give you increased visibility.  An integral principle of social media marketing is reciprocation, so you should both give and seek recommendations to build your profile on LinkedIn.    Your recommendations will appear on your profile page and can often say as much about you as they do about the recipient – as they disclose what you see, and value, in other people.  As with any social networking site that you are trying to build a presence on, it is important to maintain your contribution with regular sharing.
#9. Ask questions and and respond to others
When you join a group it is very useful to ask, and respond to, questions and to be active in discussions.  In this way, you can display your expertise, engage others and connect with potential customers who share your interests and/or perspectives.
#10. Create LinkedIn Ad Campaigns
Contrary to popular belief, LinkedIn has ad placements that you can purchase, either by way of cost per click (CPC) or cost per impressions (CPI or CPM).  You can target your audience by:
Geography
Job function or seniority
Industry and company size
Gender and age
You should keep in mind the demographics of LinkedIn when using the site for paid advertising.  It pays to read the FAQ's to learn about ad placement, advertising conditions and recommendations for writing ads.
LinkedIn is a valuable way to build your small business brand, make new connections, increase the online visibility of your small business and develop relationships with customers