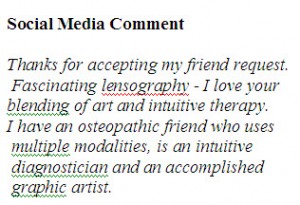 One of the most effective means of small business marketing is commenting on blogs and social media sites.  However, commenting is something that has to be done consciously, not as a "throw away" activity.   It should be done with full awarness of the impact of your comments on your brand, on the receiver and on the social media site.
Central to this small business marketing idea is the notion that when you comment on blogs or social media sites, you are branding yourself and your small business in the eyes of your reader (potential customer).
When you comment on blogs, for example, you are not only displaying your knowledge and expertise (or lack of it) but also who you are and what you value.  This disclosure (intended or unintended) flows over to your business brand.
I have written more extensively about the impact of commenting on branding in the following article:
Branding You, Branding Me, Branding Wizzley
There is an art to effective commenting and previously I have identifed three core strategies:
Consider the author
Share something of yourself
Consciously add value
These guidelines for effective commenting are developed and illustrated in another article I wrote earlier:
How to create quality comments
In the final analysis, when you comment you should be attempting to add value for the originating author, the social media site and your own brand.
There is strong evidence that effective commenting on blogs and social media sites can build your brand, create connections with customers, increae your web traffic and boost your sales as a small business owner.