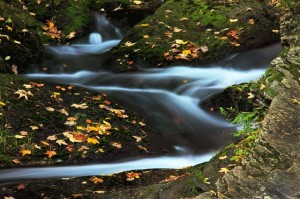 The Google Plus Stream is the lifeblood of Google+.  It enables sharing of information to Circles and has a lot of the characteristics of Facebook's status updates.   You can share ideas, status updates, photos, videos, links and your location (if you really want to!).
The Share box is accessible via the Google Plus homepage.   You have a few icons you can click on to share specific types of information or you can just enter text in the Share box:

In line with Google+ Privacy Policy, you can specify who you share each post with.  You can identify specific Circles or all Circles (public).   Icons for suggested circles are shown (e.g. Acquaintances and Friends in the image above) and you can add more Circles by clicking on '+add more people'.  You can delete a suggested Circle from your distribution by clicking on the delete button (X) in the respective Circle icon.
You can see that yet again Google Plus is deadly serious about giving you control over your privacy by allowing you to determine the desired distribution for each post.
What should you share in your Google Plus Stream?
I have discussed what types of content you can share in your Google Plus Stream, but what exactly should you share?  The fundamental rule to remember is that your Stream on your personal Google Plus page should be about CONVERSATION NOT CONVERSION!   If you indulge in a constant sales pitch, you will be very quickly dumped from multiple circles (…and defeat the whole purpose of using the Google+ network, which is to expand your contacts).
So think about the things that you find engaging and share something similar.  Here's a list of the kinds of posts that catch my attention and tend to encourage me to share with others:
informative
visually appealing
peaceful
intriguing
humorous
enlightening
challenging
insightful
reflective 
So your purpose in posting to the Google Plus Stream is to share something of yourself, enhance your personal branding and provide content that others find useful or appealing and are inspired to share in their own Circles.   In this way, your posts will have a viral effect.
The central Stream on your Google Plus Homepage is the accumulation of all the posts from people in your Circles (who included you in their distribution when sharing). 
What to do with posts in your Google Plus Stream that you don't want
You have a range of options in relation to each post that arrives in your Google Plus Stream if you don't want to retain them or make them visible to others:
Report abuse
Mute this post (no longer visible)
Block this person
The options button is somewhat faint but you will see it beside each post as illustrated below and highlighted by the red arrow I've included in the screenshot:

How to 'like' posts in your Google Plus Stream
If you want to 'like' a post there are a number of ways to do this.  Included in the options mentioned in the previous section of this post is an option "Link to this post" which enables you to copy the link for the post and share it with others (it is mystifying why this option is inlcuded with the other "dislike" options).
However, there are a number of other options which are more clearly displayed immediately below each post as indicated in this screenshot:
These options are explained briefly below:
+1 –  indicates you really  like the post and want to save it to your 'favorites' (this is an expansive topic and will be the subject of a separate post).
Comment – see below for further elaboration.
Share – with Circles that you specify when you click on this option.
Hang Out  – Chat with the originator and others you choose to include (more on this in another post).
How to comment effectively on Posts in your Google Plus Stream
I have previously discussed at length how to comment on social media content in such a way as to build a positive online profile and brand image.  The same principles apply when commenting on posts in your Google Plus stream.
You can see from the following example how a simple comment can generate a reciprocal response.  Chris Brogan shared a video and a personal comment about the originator of the video, Tom Terwilliger.  I watched the video and left a comment on Chris Brogan's post.  Tom responded and so we have the beginnings of a conversation: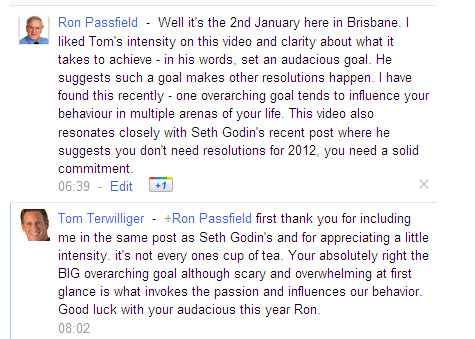 So to reiterate, the primary principle behind your sharing through the Google Plus stream must be to focus on conversation not conversion.