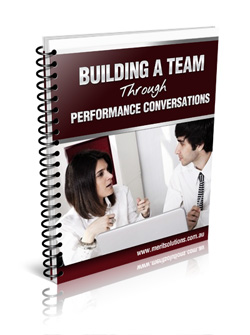 One of the most effective forms of small business marketing is creating and marketing a free e-book.  These e-books can be developed very easily by drawing together articles or blog posts that cover a common theme and then organizing them into a logical sequence.
I have recently completed an e-book, "Building a Team through Performance Conversations", for my own small business.  It is available for download via our website at the following URL;
http://www.meritsolutions.com.au/products/
Identify the purpose behind your free e-book
The purpose behind my free e-book is threefold:
create awareness of our business, Merit Solutions Australia
promote our training program
promote a specific training program focused on performance conversations
To achieve these ends, our website address is prominently displayed on the front cover and on the footer of each page.  The "about the author" page includes details of our training programs.  Reference is made to the performance conversation workshop throughout the text and these references are hyper-linked to the sales page.
The purpose behind your free e-book should drive the length, focus, format and overall design.  You can add images, illustrations, diagrams, mindmaps and screenshots to add interest, aid understanding, assist memory retention and facilitate action by the reader.  It is important that the images reinforce your content and do not distract from it.
The "Building a Team" e-book is my 6th free e-book and I find that, as with any writing, creating an e-book gets easier every time.
Converting your free e-book to a PDF Document
Typically, e-books are written as Microsoft Word documents in the first instance and then converted to a PDF format.  The PDF format enables easy upload and download, retains formatting and facilitates security over your content (you can lock out the facility to highlight and copy).
If you have 2007 or 2010 Microsoft Office, you can save your Word document as a PDF file with clickable links.  There are many free PDF converters on the Internet but most of these display hyperlinks that are not clickable, so you lose one of the major advantages of a PDF file.
However, there are paid programs that have all the required features.  A low-cost option ($10) that I have used is eWriter Pro.  This software has the following features:
You can create your content directly inside the software or just paste it in from your text editor (like MS Word).

You can include active hyperlinks to websites or email (clickable links)

You can password-protect your PDF document (for security purposes)

You can disable the copy/paste function or print function to prevent people thieving your e-book

You can easily insert pictures, footers & text frames

You can include page breaks &

automatically add page numbers and footers

You can manage, store and categorize all your ebooks, articles and works-in-progress from within the software.

You can create an unlimited number of full-featured PDF files. No restrictions, no royalties, no 3rd-party ads.
So there is no limitation on how many free e-books you can create and distribute to market your small business and your products and service.