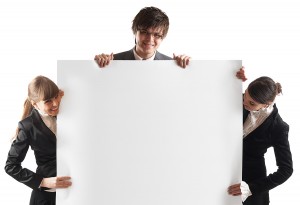 Linkedin Ads is a great medium for targeted advertising for business-to-business (B2B) marketing or where the market for your small business can be segmented by profession, job title or company.  Now with over 130 million members, the LinkedIn professional network allows small businesses to get their message across to a highly targeted audience.
Good conversion rates and leads can be generated from LinkedIn Ads – as long as you have the right tools and the right people to tailor your message correctly. There are plenty of blogs and articles that can teach you how to create a great online ad campaign to achieve a high return on investment (ROI), but this blog post gets down to the very basics of creating Linkedin Ads.
What do you need to do first? How do you set up a Linked Ad? What are your options?  This blog post will address these questions and more by spelling out the basic steps to get your LinkedIn Ads up and running.
Step 1 – Getting started with LinkedIn Ads
You must have a Linkedin profile to start.  From there, you can go to Linkedin Ads by clicking the link located at the top left hand corner of the page:

You can also create a Business Account if you have created a company page.   By doing so, you can add additional people to control and monitor your campaigns.  This runs separately from your individual LinkedIn Ads account, so you can choose to run a campaign for yourself and then run a company campaign. These are also billed separately.
There is an additional registration required to create your LinkedIn 'Business Account' as indicated in the following image:
Step 2 – Create a LinkedIn Ad campaign
To create a LinkedIn Ad campaign you need to understand the basic terms used by LinkedIn:
Ad campaign: Covers up to 15 Ad variations and a single target audience.
Ad Campaign Name: If you intend to segment your audience, name your campaign accordingly for easy tracking and easy metrics beyond the campaign, e.g. as seen in the image below – 'Performance Conversations for Networks/Groups' ([Training Workshop Name] for [Targeted Group]):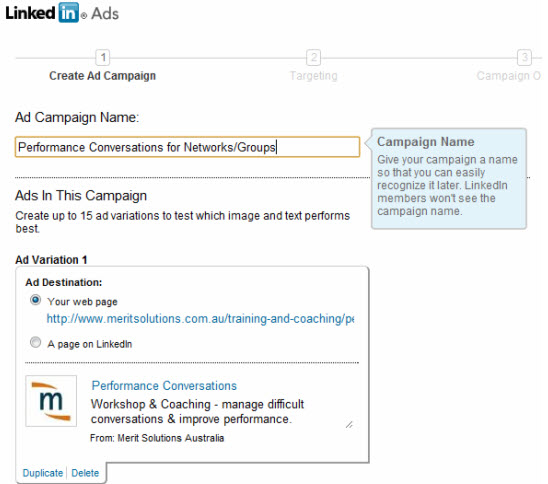 Ad Destination: You can link the Ad straight to a page on your website or to a page created from your LinkedIn account. If you are going to send visitors to your website, ensure the link in your Ad takes them directly to the related page – do not send them to your homepage and expect them to look around for the right information. That is an easy way to instantly lose a possible sale.
If you have created a page from your Linkedin Company Page, you can also send people who view your Ad to the address of that Company Page. For e.g. a job advertisement you've posted, or a service that your company offers.
In addition to the above terms, you need to understand the LinkedIn Ad structure.  This covers items such as image for your Ad, headline and description:
Image for your Ad must be 50×50 pixels.  
The headline must be no more than 25 characters. Unlike Google Adwords, the headline for your LinkedIn Ad does not have to be "keyword specific", so you can use a title that will catch your audience's eye.
The description must be no more than 75 characters (but you have two lines to be creative with these limited characters). With character restrictions, you must get to the point but grab attention at the same time.  Some common tips are:
–  Tell them what you're selling – get to the point
–  Appeal to an emotion (fear, stress, relief, excitement)
–  Use a Call to Action (e.g. Register today).
To round off your LinkedIn Ad you need to complete the 'From" field with either your own name or your company name.
Step 3 – Targeting your LinkedIn Ad
This step is what gives you the most value so be sure you know exactly who you are trying to target.  Your options for targeting with LinkedIn Ads include location, company, job title, group, gender and age.  You can make your targeting as broad as you want (all members from one location – Australia) or as defined as you want (only members from Brisbane, Australia AND who work for the Queensland Government AND who are in a Senior Position AND who are a member of the AHRI Network group).
On the top right hand corner of your screen you will see your Estimated Target Audience. The more defined you get, the more this number shrinks, but don't see this as negative. If your goal is to gain awareness of your brand, keep your target broad. If you are looking to generate conversions and believe you'll have a high click-through-rate (CTR), then save yourself from advertising to unnecessary audiences costing you unnecessary clicks (and money). The more defined your targeting, the more likely you'll be able to convert your LinkedIn Ads to sales because your Ad will actually mean something to your audinece.   To everyone else – your Ad is just another ad with no relevance or significance for them.
Step 4 – Setting the budget for your LinkedIn Ads
LinkedIn Ads is a paid advertising platform.  You have two basic options in terms of what you pay for: 
Pay per click (CPC): You only get charged when someone clicks on your Ad.
Pay per  impressions (CPM): You pay for the number of times your Ad displays for a visitor to LinkedIn (on the basis of 'per thousand impressions').
This choice is dependent on your goal. Linkedin will always suggest a click bid range for you. The minimum is $2.00 per click.  The Bid Range is based on competition. The higher you bid, the more likely your ad will be shown over competitors who may not be willing to pay as much. Don't worry about over-spending. That's where the Daily Budget comes in, allowing control over your clicks so that you can stay within your online advertising budget.  You need to choose whether you want to run your campaign continuously or until a specific date.
(Side note: there is a one time activation fee of $5.00 – this is then credited to your LinkedIn Ads account and used as the initial credit towards Clicks/Impressions)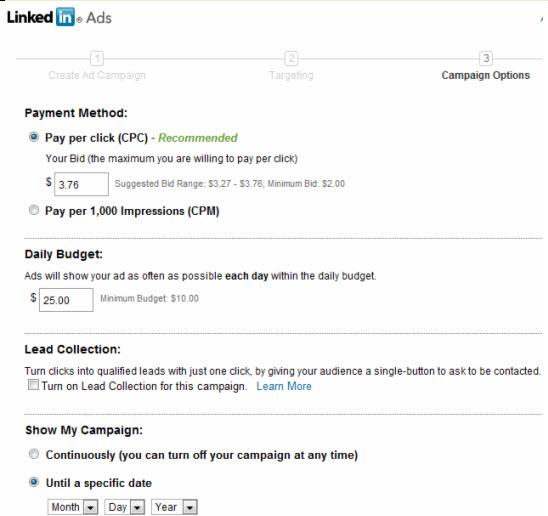 Step 5 – Let your LinkedIn Ad run for a period…and evaluate
Keep an eye on your campaigns every day. It is important to monitor how your Ads are going so you can make adjustments if necessary. If your Ads aren't getting any clicks – edit or delete them. If you've identified which variations of your ads are working the best – disable the others. If you're reaching your daily budget every day and not getting any conversions to sales – lower your bid per click and/or alter your daily budget. Watch your campaign to ensure it is working for you and what you are trying to achieve.
LinkedIn Ads can be a profitable medium for small business marketing if you target your Ads appropriately and evaluate your results continuously.