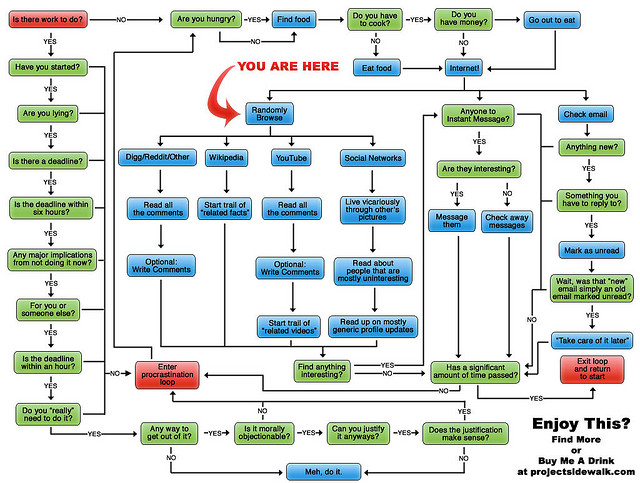 Procrastination can have many manifestations but ultimately it impacts heavily on your productivity.  Some authors suggest that procrastination is putting off important tasks in favor of less important tasks or doing tasks you enjoy rather than tasks that will lead you to your goal.
There are many reasons why we procrastinate.  In my personal productivity course I discuss fear of failure and fear of success as possible causes.  In this blog post, I will look at procrastination in terms of pursuing our preferences, over doing what we should do in order to be productive.
[Image credit: Procrastination Flowchart by jean-louis zimmermann]
Procrastination: doing what you love rather than what will make you productive
One of the manifestations of your procrastination could be that you avoid the mundane, routine tasks that are necessary to realize and maintain your goals.   If you are a creative-type person, you will find yourself spending time on creating new things – new websites, blog posts or other endeavors – at the expense of doing things that are necessary to move you closer to your goals – things that would enhance your productivity in terms of goal achievement.
Sometimes we can become productive in the wrong things – we can concentrate on the 80% of things that don't lead directly to our goals and ignore the 20% of tasks that do.  Yaro Starak describes this 8o/20 rule in the following terms:
… the important thing to understand is that in your life there are certain activities you do (your 20 percent) that account for the majority (your 80 percent) of your happiness and outputs.
If you focus only on the things that you enjoy, then you will avoid the things that are less exciting but that contribute more to your goals.  In fact, one of the things that have been identified about successful people is that each day they do first the things that they don't like doing but see as necessary for goal achievement (before they do the things they like).  This daily discipline is a way they overcome procrastination to improve their productivity and achieve their goals in life.
So if you want to improve your personal productivity, it pays to look at the important tasks that you tend to avoid because they are routine or boring.  Ask yourself how you could give them a new priority, instead of leaving them to last (when you invariably have no time to complete them).
It may be you are putting off social bookmarking, writing that important blog post, updating your browser or making simple (but important changes) to your website – all in favor of enjoying endless interactions on websites such as Facebook or Squidoo.  Alternatively, you may be avoiding engaging on these social networks because you find logging in, reading and commenting boring tasks. 
You really have to take a close look at your procrastination and determine what is going on for you, if you want to improve your productivity.