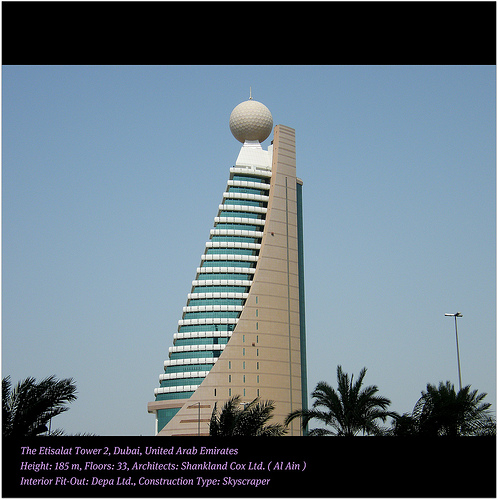 One of the great boosts to our efficiency and productivity of late has been the new business contract we have established with our ISP (Internet Service Provider).
Over the past 12 months, the competition between ISP's in Australia and overseas has intensified.  One result of this is that ISP's are now starting to bundle up services and products to attract new customers or retain existing customers.  There can be real benefits for your cost efficiencies and productivity. 
(Photo credit: ETISALAT TOWER 2 : DUBAI  by UggBoy)
Research ISP contracts to improve productivity and efficiency
My wife, Anne-Marie Carroll, did the research for our home offices and located a great package that covers the four computers we have between Anne-Marie, myself and our two sons living at home.
Not only do we get faster upload and download and increased data access but we have our phone services integrated as well (at a greatly reduced cost).  The net result is that we not only improve our productivity but also our cost efficiency.
The package we chose is called the Fusion Package for AUD$109 per month:
Unlimited standard local & national calls to fixed lines within Australia
Unlimited standard calls to Australian mobiles within Australia (this is a great cost saving  for me as I can make up to 20 calls a week to mobile phones around the State because of my organisational consulting work)
Line rental included
Up to 500GB broadband data per month included – then speed limited to 256kbps (our earlier limit was 16 GB and our service would be slowed down considerably when we exceeded this quota around the end of the month)
Premium Speed (up to 1,000 kbps download speed), WIFI cable modem included with built-in Router for four Internet cable connections (we had a separate Router before with all the issues with drop-out occasioned by the cable connections to the modem)
$0 connection fee & delivery 
High definition digital Set Top Box that lets you record multiple channels simultaneously – Pause, Rewind and Record Live TV.
Besides improving our entertainment options, through this new package we have reduced our combined Internet and phone costs (landline and mobiles), expanded our data access, increased our upload and download speeds and save ourselves time and angst.  The WiFi modem with integrated router works really well and enables us to access the Internet via wireless when we are using a laptop.  This give us greater flexibility and mobility when we work at home (most days for me).
So I would strongly recommend you re-visit your ISP contract and look at ways to improve your cost efficiencies and personal productivity – it's a buyer's market at the moment.