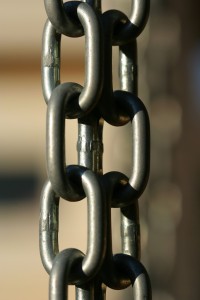 The key benefit of linking your Squidoo lenses is to demonstrate your expertise in a particular topic or niche.  Another benefit is that readers are more inclined to follow links to related lenses than to something that does not relate to their search term.  Both of these benefits can provide substantial assistance to your small business marketing.
There are a number of ways to link your Squidoo lenses and I want to concentrate on two particular Squidoo modules that make lens linking very easy – the 'Featured Lenses' Module and the "My Lenses" Module.
[Image Credit: John-Morgan]
Featuring your lenses and creating a lens chain
The Featured Lenses Module enables you to highlight up to five (5) lenses that are related to the topic of your lens.  You  can feature your own lenses or those of other Lensmasters.  With this module you specify the URL (web address) of the lenses that you want to feature and identify the number of lenses (up to 5) that you want to display.  These options are illustrated below ('Featured Lenses' Module shown in edit mode):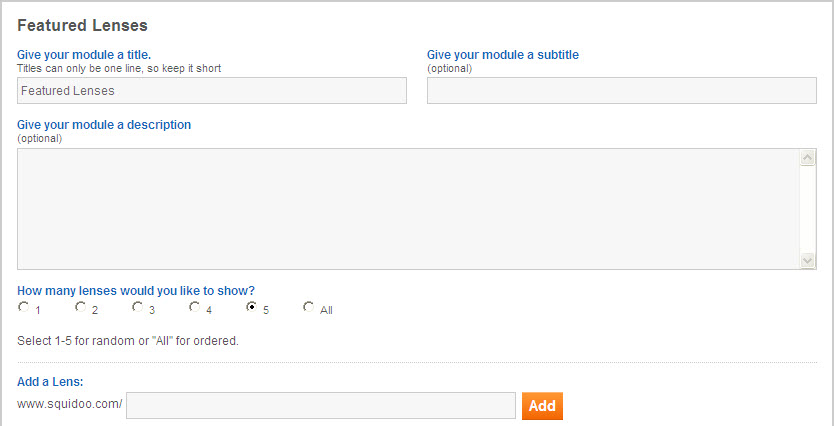 One way to make good use of the Featured Lenses Module is to create six (6) lenses on a topic and then on each lens add a Featured Lens Module that highlights the other five (5) related lenses.  This effectively creates a Squidoo lens chain and is a powerful option for small business marketing.   I have used this approach on my Squidoo lenses about  Online Learning as illustrated below: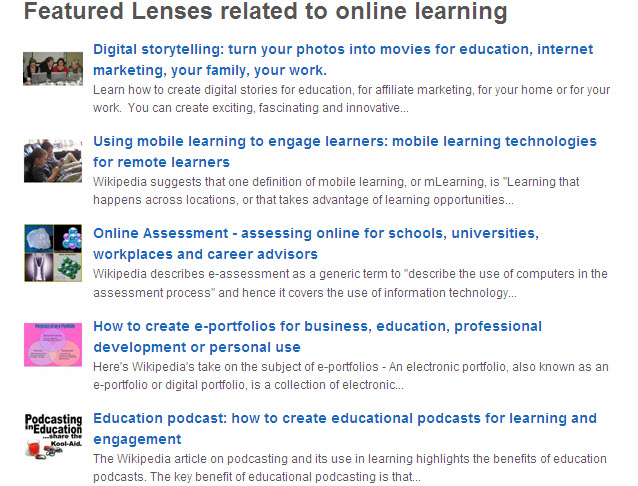 Another linking option you can use with the Featured Lens Module is to link to lenses created by others.  You have to make sure, though, that these lenses cover a topic related to your own.  This approach can add value to your own lens because it gives readers ready access to further information on the topic of their search .  It is also in line with the collaborative marketing ethos of Squidoo and may result in some form of reciprocal link or "liking".
Using the My Lenses Module for linking your lenses
The 'My Lenses' Module differs in operation from the Featured Lenses Module in that you do not specify the URL of the lenses that you want to link to, but rather choose from a number of criteria that Squidoo then uses to list your lenses.  This means, in effect, that you have less control over the specific lenses to be displayed in the module.   A further difference is that you can display up to 25 of your own lenses.   So if you have lots of lenses related to a topic, you might choose to use the My Lenses Module
As explained, this module works from criteria that you specify.  You have two choices, (1) choose by Squidoo topic area from the drop-down menu (e.g. education) or (2) choose from the tags (keywords) you have used in creating your lenses.   The My Lenses Module is illustrated (in edit mode) below: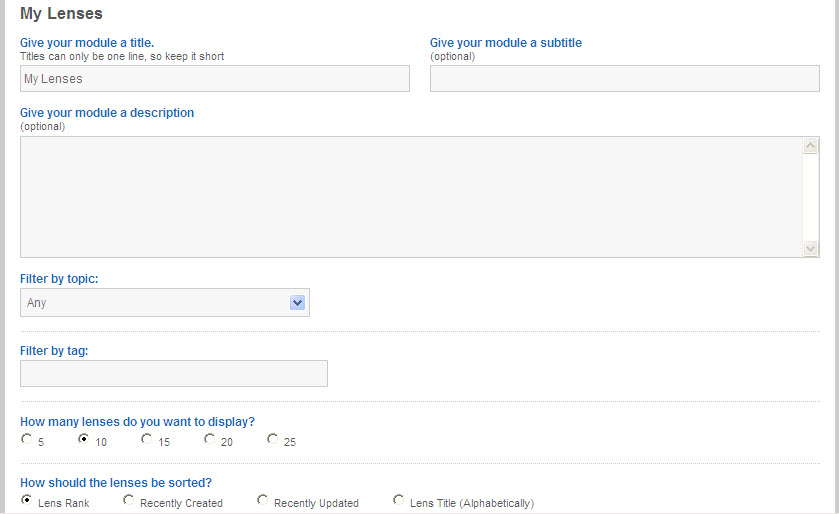 Having chosen the basis for selection (topic or tag) of your lenses, you can then specify on what basis they will be displayed.  The choices listed at the bottom of the module (in edit mode) are:
Lens rank
Recently created
Recently updated
Alphabetically by Lens Title
One advantage of both the Featured Lenses Module and the My Lenses Module is that Squidoo completes the details of the chosen lenses for you.  So these two modules automatically display the Squidoo lens image, lens title (hyperlinked) and a brief description of the lens (as displayed above in the  image – 'Featured Lenses related to online learning').
The two Squidoo lenses modules that enable easy linking of your lenses are a real boost for your small business marketing because they both add considerable value to your lenses in the eyes of readers and the search engines.