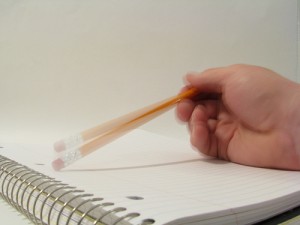 Indecision has a major impact on productivity – in fact, it can cripple your productivity.  When you are undecided, your cannot focus or gain momentum in a particular direction.  You spend all your energy on the decision process rather than taking action.
Have you experienced yourself 'going around in circles' – unable to decide which direction to move in?  Or have you sat there at your table endlessly tapping your pencil (as in the image above) – and becoming agitated by the pain of the decision process?  Indecision can not only detract from our positive energy, it can also create negative energy and lead to exhaustion and depression.  The best antidote for depression is action – but indecision prevents us taking action and becoming productive.
[Photo credit: Tapping Pencil by Rennett Stowe]
Dealing with indecision to improve your productivity
Sometimes indecision is a result of too many opportunities.  If you try to pursue every opportunity, you will dissipate your energy and achieve very little on any front – you need to grasp the nettle and make a decision.  Until you do decide, your indecision will erode your energy and your productivity.  You will spend all day 'tapping pencils'.
It's always hard to make that decision – you are torn between too many alternatives.  Your emotions tell you one thing and your mind another.  Deciding is about making a choice between alternatives – in the process you not only decide what you will do, but also what you will not do.  This exclusion process is the hard part of decision making.  Often, we really don't decide – we say that we are going to do one thing and then continue to do the other thing in our 'spare' time.  The net result is that our productivity suffers and we are unable to give the one important thing our full focus.
Making the decision – a process to improve productivity and overcome indecision
There are many decision making processes you can use and sites like MindTools offer great advice and tools for decision making.  One of the decision making approaches that I have used recently (and found very useful) is the cost/benefit analysis approach.
Basically, you look at the likely benefits (upsides) and costs (downsides) for each option you are considering and evaluate the overall net value of each option.  You need to decide then which option will give you the greatest net value (benefits over costs).  It pays to do this process with someone else and talk through your analysis and decision dilemmas.  Often another person can offer an alternative perspective and help you make your decision.
While ever you are stuck in indecision, you can't move forward and your productivity will definitely suffer.