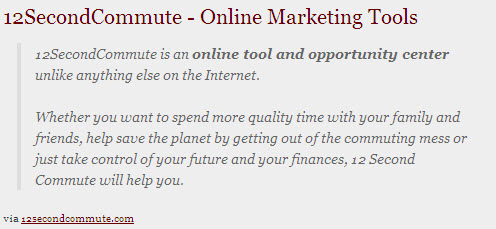 Posterous provides screen capture blogging in addition to the email blog discussed in my last blog post.
You can add the Posterous bookmarklet to your browser and you will have unlimited screen capture options to use as Posterous blog posts.  You can capture photos, video, podcasts and text to add to your blog.  The bookmarklet supports numerous sites such as YouTube, Dailymotion, Vimeo and Metacafe.  Posterous, through its screen capture technology, automatically tries to find flash embeds and large images so that your videos and podcasts can be played on your Posterous blog.
What you do is highlight the area of screen that you want to capture and click the Posterous button in your browser (you need to be logged into Posterous – you can stay logged in as an option).  There is an example of text capture from the 12SecondCommute website in the image at the top of this post.
When you use the Posterous bookmarklet for screen capture you can add comments to the captured image together with a hyperlinked URL  Here's an example of a text screen capture and the provision for a comment on the Posterous extract: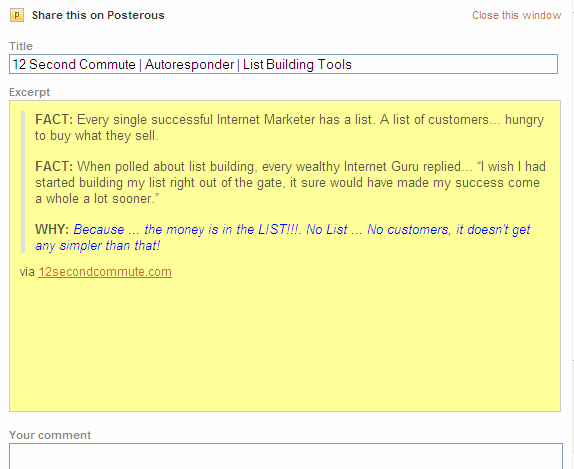 Ideally, you would make a 100 word comment that is keyword rich and adds to the information in the screen capture window.  The comment would also include a link to your target website/blog.  Here's an example comment created in relation to the text screen capture at the top of this post: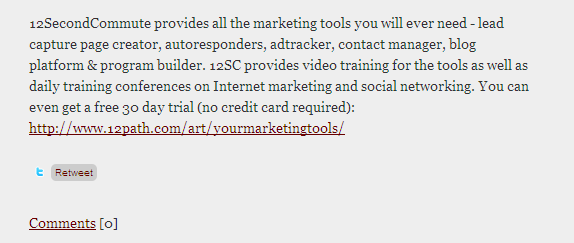 Posterous automatically records the URL of the screen capture and adds it as a hyperlink.  However, you can edit the screen capture and URL displayed before posting to Posterous.  You do this by clicking on the text/image displayed in the screen capture and this will result in a window displaying the HTML code for editing.  You can just highlight the relevant text or link and replace it with the desired information: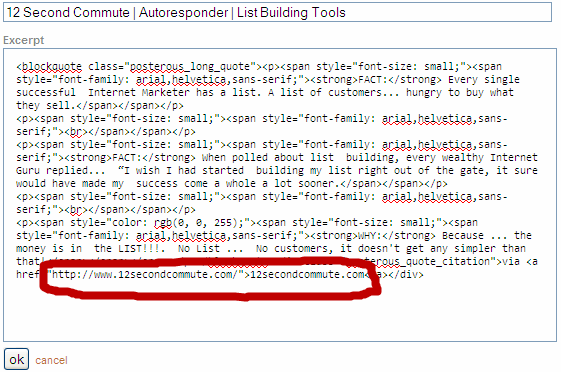 Screen capture blogging with Posterous is another great option for small business marketing online as it is easy to use and is very versatile.