Google Plus is Google's new social network launched in June 2011.  Google+ will be an integral element in small business marketing into the future.  It will not only enable you to build your personal profile but also build your business brand online.   Google Plus membership has already reached 62 Million and is growing at the rate of 625, 000 new users per day.
Why bother with Google Plus?
Google views Google Plus as extending its capability (and value) beyond its traditional search engine focus to social networking.  However, these two major arenas of Google's activity should not be seen as separate.  Google has already made it clear by its own words and actions that the Google + social network will feed search engine results.  It has also shown the intention to rapidly integrate other Google applications into Google Plus, its new social network.
Google has already integrated Google+ into its toolbar as shown in the images below:

This icon. '+Ron' , provides a direct link to my Google+ account.  In the following toolbar image, you can see how Google integrates 'notifications', 'sharing',  'profile" (thumbnail photo) and 'settings/help'  icons for ease of access:
As we progress through my blog posts about Google Plus, you will see that Google is deadly serious about this new social network – it is not just a new 'plaything'.  Wherever you go on Google, including the search results, you will see increasing integration of Google+.   Google played around with its early social network, Google Buzz, but has since canned it to build Google Plus – all the time using Buzz as a learning laboratory.   If you have any doubts about Google's long-term commitment to Google Plus, just check out Google's own announcements re its ongoing Google + updates.
Integrating Google Plus into your small business marketing will no longer be a nice option (initially, Google+ was invitation-only), it will be an essential element.  Otherwise, you will see your online marketing progressively vanish into the background as Google takes over the foreground with its Google Plus social network.
As mentioned in my earlier post on the major changes for small business marketing in 2011, Google+ is one of Google's strategies designed to wrest back the Number One web traffic position from Facebook.  The similarities between Facebook and Google Plus will hit you immediately, so this new social network represents head-on competition with Facebook.   As a small business owner, you can stand on the sidelines and watch the battle or you can engage with both these giant networks and ensure that you have a sound footing online – this is where the action is and where the people (your customers) are.
What is significant about Google Plus?
Google Plus has already been lauded for its ease of use and flexible privacy settings (addressing one of the key problem areas of Facebook).  As Google+ is in its early stages, it is also possible to get access to people you would not normally be able to link to.
So here is a list of key things you can do (explained in detail in later posts):
create a comprehensive personal profile
build 'circles' (add people to different circles/groupings and control the access and distribution of your information via your circles)
share photos and videos
develop your 'stream' (similar to Facebook's 'News Feed' – integrating 'status updates' and content such as photos or videos)
private message other people in your circles
create a hangout (an evolving facility to engage others in live conversation via video and text chat – considered by many to be the real technological breakthrough for Google Plus)
create 'sparks' – recommendations
build business pages (sound familiar?).
Some commentators are suggesting that with these features and the growing integration with Google's own applications, Google Plus represents a combination of Facebook, Twitter and Flickr rolled up into one state-of-the art social network.
How to Join Google Plus
You can join Google+ via a link on the blog/website of a Google+ member.  You will see the image displayed at the top of this post and the sign-up box as shown in the following screenshot: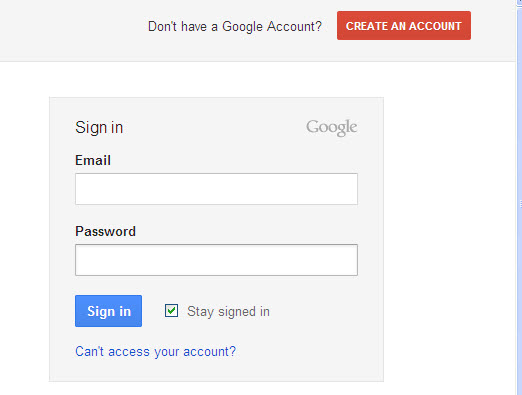 Alternatively, you can go directly to Google Plus and click on the following image and this will take you to the signup page indicated in the above image: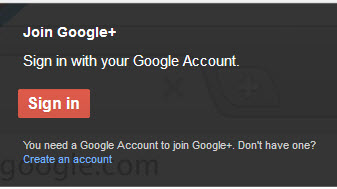 Note: You will need a Google account to join Google Plus (with either sign-up option).
With each advancing day as we move into 2012, Google Plus will become more critical to small business marketing and this will be progressively explained in succeeding blog posts (which symbolically will take us into the New Year).