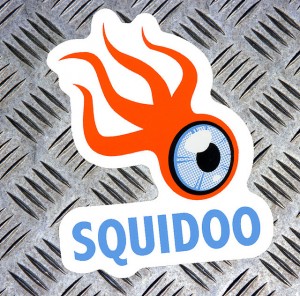 Squidoo was designed for marketers by an Internet marketer, Seth Godin.  So Seth Godin's Internet marketing principles are embedded in the Squidoo platform design.
In this post, I'll explore some of the characteristics of the Squidoo platform design and how you can best make use of these features to further your small business marketing.
[Image Credit: teamstickergiant]
Inbuilt coding for indexing by search engines
If you know any of the technical jargon about guiding the indexing of your website by the search engines (search engine optimisation), then you will have heard of meta tags – basically signposts for the search engine bots that crawl your website for indexing purposes.
These meta tags tell the search engines what your site is about (site description) and what keywords (search terms) you are focusing on.  Normally, you have to create these meta tags yourself.   However, with Squidoo, they are built into the Squidoo platform.  So to take advantage of this you need to do the following:
ensure that the name of your Squidoo lens (lens URL) contains your targeted keyword
include your primary keyword in the lens description
ensure that your primary tag is the same as the keyword in the lens title and description
use your keyword, or variations of it, in your module headings
ensure your keyword features in your introduction
use tags that are clearly relevant to your primary keyword.
Above all, avoid 'keyword stuffing' or overuse of keywords to a point where what you write is meaningless.   Primary keywords, and related words, should occur naturally throughout your writing. 
Each lens is a single web page enabling deep indexing by the search engines
The way the Squidoo platform is structured means that each lens is seen by the search engines as a single page, even if the lens is more than 45 modules long as is my primary Squidoo lens:
http://www.squidoo.com/squidoomarketingstrategies
The net effect of this is that the Google search engine bots can readily engage in deep indexing of Squidoo lenses – which means that your Squidoo lens gets indexed from top to bottom (including comments).  Many webmasters and bloggers engage in all kinds of activities to get Google to index beyond the first page of their websites.  With Squidoo this activity is unnecessary as the Squidoo site is designed to facilitate deep indexing by Google and the other search engines.
I have written about this deep indexing in an article on the article directory, Ezinearticles.com, and explained how this takes place:
Squidoo and Search Engine Indexing
In a another article, I elaborated further on how to make the best use of the fact that the search engines index the whole of a Squidoo lens (deep indexing):
Top 10 Tips to Encourage Deep Indexing of Squidoo Lenses
Squidoo lenses are indexed for multiple keywords
One of things that I discovered through building many Squidoo lenses (100+) is that Google indexes Squidoo lenses for multiple keywords.  One of my lenses on Digital Storytelling was found through more than 300+ search terms (over a 3 month period) on Google's search results.  This means that Google had indexed my Squidoo lens for more than 300 keywords and searchers were able to find my lens through multiple search terms.  The net effect of this for small business marketing is that by creating Squidoo lenses you are increasing the chances of people finding your website/blog because of the way Google indexes the lenses.
This whole process is illustrated in a PDF document I produced as one of the bonuses of my Social Media Training Program.   This PDF demonstrates how Google indexes Squidoo lenses, shows you how to check your own lenses for indexing by Google and explains how to maximise the chances of your Squidoo lens being found on Google and other search engines.  The core strategy in relation to the last point, is the use of  'long tail keywords' (keywords containing three or more words).  The PDF can be downloaded here (includes a listing of the 300+ keywords for my digital storytelling lens):
http://www.squidooroo.com/Downloads/DeepIndexingofSquidooLenses.pdf
This multiple indexing of Squidoo lenses is not something to be taken lightly.  I have subsequently discovered that another of my lenses, Tropical Rainforest Walk, has been found through Google via more than 600 search terms.
Small business marketing can get a real boost from the fundamental design of Squidoo lenses as the Squidoo platform encourages indexing by search engines, facilitates deep indexing  and creates the opportunity for indexing of multiple keywords from the one Squidoo lens.