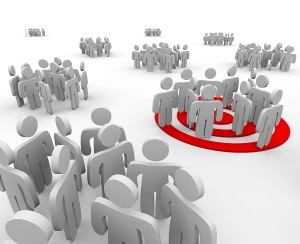 LinkedIn Ads have a number of distinct advantages for small business marketing, particularly for businesses in the professional sector.   We decided to use LinkedIn Ads to raise awareness of, and participation in, one of our new training workshops.   This approach was designed to complement our normal email marketing campaign for our human resource consulting business.
Linkedin Ads is much the same as most click-based advertising programs, and just like Facebook Ads, you can segment your target audience.  What makes this targeting more valuable and relevant is that you can target your audience based on their current professional status or career interests.  In contrast, Facebook Ads tend to focus more on lifestyle interests, while Google Adwords enables targeting geographically by search terms/keywords.
LinkedIn Ads: The Advantages
The advantages of LinkedIn Ads revolve around targeting/segmenting features and cost structure.   The key advantages for us were:
1.  Ability to target professionals and business people
We could select a target audience based on Location (capital city, state, country), Gender and Age and then segment them further by selecting Companies they work for, Job Titles or even a Group they had joined.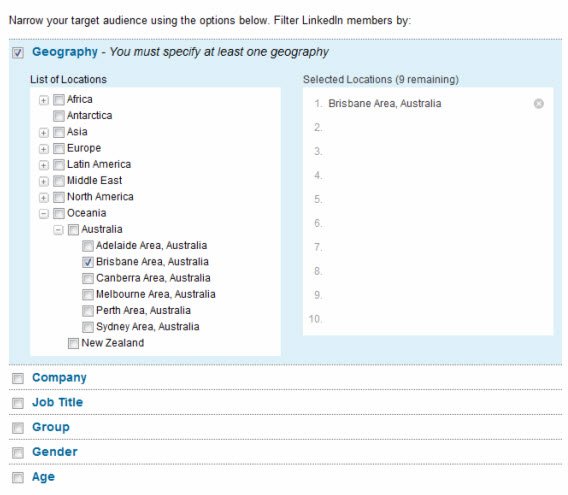 2,  Option to run your campaign for different target audiences
We focused on three different target audiences in this campaign – (1) people in Senior positions (as our workshop focuses mostly on managers and team leaders),  (2) those that worked at specific Companies and (3) those who belonged to certain Linkedin Groups (usually professionally based).
3.  Ability to create up to 15 variations of an ad
Initially we had two variations – each had the same copy but with different images. Eventually we added more variations to include Call to Actions. We ended up with 12 variations in total.
4.  Relatively cheap for a highly targeted service
As with most click-based advertising, you have the power to set your daily budget and how much you are willing to pay for each click. While Linkedin Ads do have minimum amounts that you could set ($2.00 per click and $10.00 daily budget), these were relatively inexpensive considering how targeted you could make your audience, ensuring that only the most relevant people are viewing your ads.
Related to this last advantage is the capacity to view in advance the numbers that make up any specific targeted audience – so you can very quickly see whether the target audience is too large or too small.  The following illustration shows that one of our earlier choices of audience resulted in an estimated target audience of 281,994.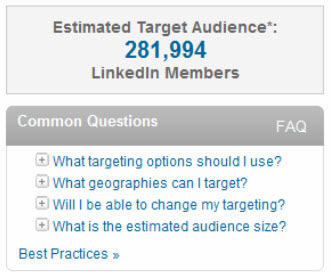 Linkedin Ads: The Disadvantages
Two distinct disadvantages from our first experience of LinkedIn Ads were:
1.Actual reach
 With the option to target your audience as broad or as narrow as you wish – we found that the more we wanted to tailor our campaign, the less people we could reach.  While this sounds like common sense, it still felt restricting – we were not able to fine tune our targeting as much as we would have preferred to because the estimated target audience was in the low hundreds.   This disadvantage could be a function of the location and population mix.  The same audience choices in aUSenvironment would have resulted in much larger numbers.
2.  Relatively low click through rate (CTR)
There were tens of thousands of impressions of our ads in the 2 weeks that we ran this campaign but we only received a .022 CTR (22 clicks per 1,000 impressions).  This could be influenced by the nature of LinkedIn and the regular behaviour of the audience (high resistance to online ads?).  Another influencing factor would be the quality of our ads – title, description and the image.
What we learned from this experience of LinkedIn Ads
Our key learning related to the nature of the image, the click behaviour of specific audience types and the impact of ad changes mid-stream in a campaign.  Here are the key findings:
1. The image used makes a difference
In choosing an image, the audience clicked on the company logo image more often than a content-related image.  This stat could be influenced by the fact that our logo is recognised in the marketplace after 15 years in operation.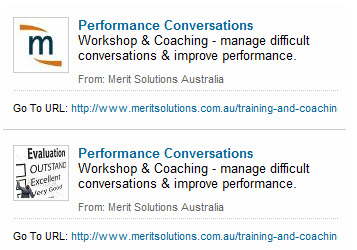 2. The more senior group (higher organizational ranking) generated the most clicks.
 By contrast, the campaign that targeted "Groups" was the least successful.   What would influence this latter result is the nature of group membership (focused on discussion, not ads) and the perceived relevance of the ad to the focus of the group discussion.
 3.  Creating different variations in the middle of the campaign did not help at all and may have possibly harmed our campaign. Clicks almost immediately halted after releasing variations and very few clicks in total were gained from the new ads then from the original ads.
Why use LinkedIn Ads?
LinkedIn Ads provide a particular form of targeting because of the professional/vocational focus of the membership.  We were able to learn a few things in our first campaign on LinkedIn.   There's a lot of trial and error with any form of click-based advertising.   Patience is required along with a good analysis of your campaigns.   Constant review and matching of all elements – heading, description, image and audience – are essential for success with LinkedIn Ads.